SHRII is pleased to announce that Somjit Dasgupta will be providing a surshringar concert on Thursday May 17th, 2018 at 7:00 PM. A student of Pandit Radhika Mohan Maitra and the keeper of over 200 historic and rare instruments, Somjit is one of the few remaining surshringar players in the world trained by one of the legends of pre-independence India. Somjit is the keeper of many surshringar and sarod compositions of the Shahjahanpur Bangla lineage. Check out a sample of his SHRII performance from 2017 in Portland.
Somjit will be joined by Wyetta Bontempo (surshringar) and Naike Swai (bansuri). The two will perform Jugalbandi style, a style popularized by Ali Akbar Khan and Ravi Shankar beginning in the 1940s. The word Jugalbandi means "entwined twins" and is a form of a duet where the performers explore a raga through an interplay of the two instruments.
Naike will play on the bansuri, an Indian bamboo flute, one of the later instruments to join the Indian Classical Music repertoire. It is also known as the Krishna flute, which the blue God plays to stir love, harmony and peace in the heart of nature, animals and humans. Wyetta and Somjit will play the surshringar. The surshringar is often considered a bass sarod although its sound and playing style are dramatically different. To the best of our knowledge, there are less than 20 active surshringar players in the world so this is a rare opportunity to hear this beautiful instrument.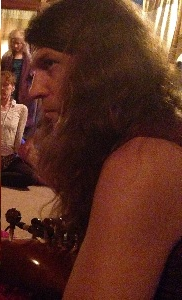 Wyetta began the study of Indian Classical Music in 2011 at the Ali Akbar College of Music. In 2013, Wyetta began studying Dagarvani Dhrupad surshringar with Jody Stecher, the only surshringar student of the late Ustad Z.M. Dagar. Wyetta has played sarod for many collaborative projects. This will be the first time that Wyetta has performed Indian Classical Music and the first time on Surshringar.
Naike began the study of the Bansuri with Pandit Harsh Wardhan in New Delhi 11 years ago. She has since been performing in solo and collaborative projects across the US. Originally from Tanzania, Naike came to the US to deepen her knowledge of the healing arts. Naike practices acupuncture,herbal medicine and vibration medicine in Portland and believes that sound powerfully integrates and shapes our lives.
The concert will take place at the former Benson-Chaney Estate located at 7654 N Crawford Ave in Portland, OR. This is the first time that a musical event has been performed at this site. Don't miss this rare opportunity to see this historic estate and experience its special acoustics.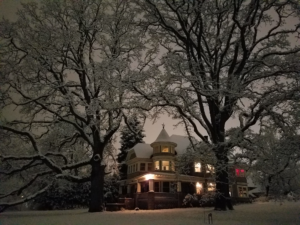 This is a donation based event. All proceeds will benefit the restoration of over 200 historic and rare instruments in India.