SHRII is pleased to present Christopher Ris (sarod) and Benjy Wertheimer (tabla) on Saturday May 26, 2018 at 7:00 PM. This will be the premier US performance of an early 20th century sarod made by the late Gopal Sharma or his father-in-law Gobardhan Sharma. The Sharmas used to make Sarods for the Royal courts around Eastern and Northern India and were clearly the premier sarod makers until Hemen began larger volume production of the instrument in the 1960s.
Christopher Ris (ChrisRis.com) began his study of sarod and vocal music in 1971 under Maestro Ali Akbar Khan. He has since performed as a soloist, with Khansahib's orchestra, The New Maihar Band, has composed music for 3 films on life in India and an episode of the television series Young Indiana Jones. He has collaborated with flamenco dancer Rosa Montoya and flamenco guitarist Guillermo Rios, as well as the principal oudist of the National Orchestra of Turkey, Necati Celik. In 1974, he began a long-lived relationship with the renowned kathak dancer Chitresh Das. In 1981, he became Mr. Das' primary musical accompanist and composer in residence for both his personal performances and his Chhandam Dance Company. Together they dramatically changed the style of kathak accompaniment, bringing the instrumentalist into the simultaneous improvisations with the dancer that were formerly the province of the tabla drummer alone. He has also collaborated and performed extensively with his wife, kathak dancer Marni Ris.
Christopher's sarod, named "Dadu" (meaning grandfather), is a fine specimen of one that was constructed in the style of Keramatullah Khan. Christopher purchased the sarod from an Indian musician and physicist living in Sweden and has spent countless hours meticulously restoring this instrument. From Jon Barlow in Adrian McNeil's, "The fish-shaped peg-box is modeled on the emblem of the Avadhi state, a fish. Those bottle shaped plates (of the fingerboard) seem only to be found on instruments connected with Keramatullah. Screws on the top surface at the edge. The playing string/chikari pattern is the same as most old sarodes and 13 taraffs (strings) was quite common. The neck looks comfy to play. Tun was the wood of choice in the deep north as it grows along the terai, but this was probably made in Calcutta. Keramatullah was also in Lucknow and Allahahbad before going to Kolkata after his brother Asadullah Kakubh Khan died in 1915."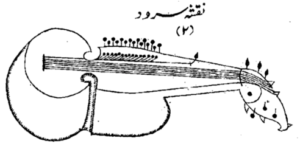 Benjy Wertheimer (shantalamusic.com/benjy) is an award-winning musician, composer, vocalist and multi-instrumentalist equally accomplished on tabla, congas, percussion, esraj, guitar, and keyboards. Benjy Wertheimer has performed and recorded with such artists as Krishna Das, Deva Premal and Miten, Jai Uttal, Walter Becker of Steely Dan, virtuoso guitarist Michael Mandrell, tabla master Zakir Hussain, and renowned bamboo flute master G. S. Sachdev. He has also opened for such well-known artists as Carlos Santana, Paul Winter, and Narada Michael Walden. Benjy is a founding member of the internationally acclaimed world fusion ensemble Ancient Future. Along with the Grateful Dead's Mickey Hart, he was a contributing composer and member of the Zakir Hussain Rhythm Experience.
He began his musical studies at age five, starting with piano and later violin, flamenco guitar, and Afro-Cuban percussion. Benjy has been a student of Indian classical music for over 40 years, sitting with some of the greatest masters of that tradition, including Alla Rakha, Zakir Hussain, Ali Akbar Khan and Z. M. Dagar. Trained in audio engineering at San Francisco State University, Benjy is also very much in demand as a producer, engineer and studio session musician. For over five years, Benjy scored music for the internationally syndicated NBC series Santa Barbara, and his CD Circle of Fire went to #1 on the international New Age radio charts in 2002. Making his home in Portland, Oregon, he now tours internationally with his wife Heather in the kirtan group Shantala.
7654 N Crawford St
Portland, OR 97203
Cost: $20 in advance: $25 at the door.


Brown Paper Tickets Ticket Widget Loading…

Click Here to visit the Brown Paper Tickets event page.